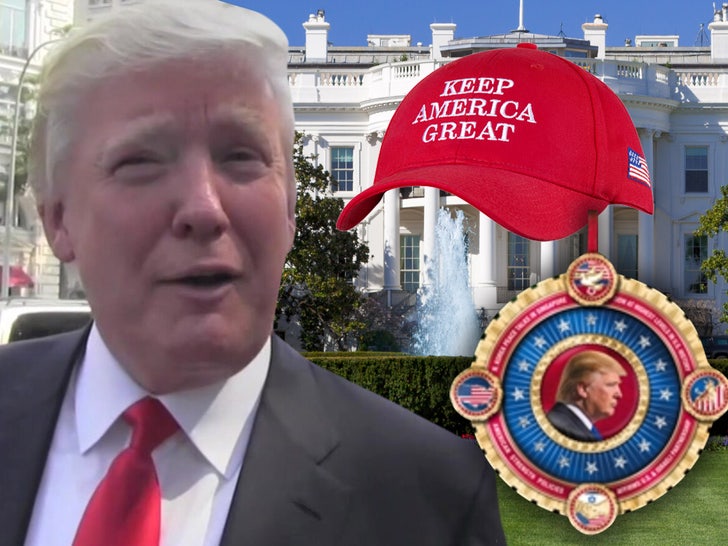 Exclusive
President Trump still hasn't conceded, but The White House Gift Shop can certainly read the writing on the wall … it's slashing prices to unload some Trump merch.
The gift shop website is now offering several Trump-centric products at a discount — some up to 50 percent. Most of the items can be found in the "Our Featured Products" section.
Here's a list of what's on sale …
The President Trump American Flag Pin, regular price $24.95, is now $15.95. The pin has "45th President of The United States, Donald J. Trump" engraved on the backside.
2018 ornaments — just in time for Christmas — are half off. One package which is normally $350 is now available at $175, and a smaller package normally $100 is on sale for $50. In both cases, the ornaments are engraved with "New leadership, new era, new generation, new hope" on the front, and "North Korea peace talks in Singapore," "Dow at highest levels in U.S. history" and other accomplishments on the back.
And, of course — Trump's red hats. Both the "Keep America Great" and "Make America Great Again" styles are marked down to $34.95 from $37.95.
Meanwhile, the WH shop is also promoting the pre-order of Inauguration Coins featuring the 46th President Joe Biden and Vice President Kamala Harris.
The coin is priced at $100, and it says it will ship on Jan. 1 in advance of the Inauguration on Jan. 20.
So, there you have it — whether Trump concedes or not, the gift shop has spoken.