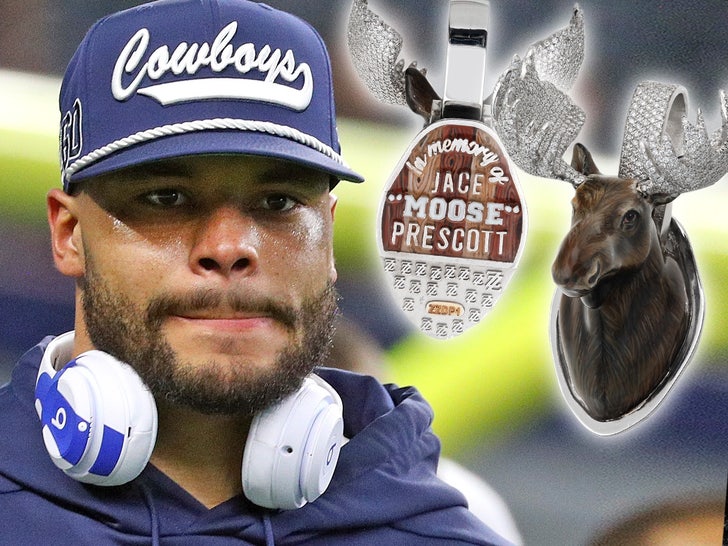 Exclusive Details
Amazing gesture from Dak Prescott … the Dallas Cowboys QB gifted his older bro with an incredible diamond moose pendant to remember their late brother — and TMZ Sports has learned it was all super emotional.
We're told in mid-November, Dak hit up Paul Mazza at Mazza New York to try to get a birthday gift made for Tad Prescott — Dak's older bro — in time for his Nov. 25 celebration.
Mazza tells us he and Dak got to talking about possible jewelry pieces for the occasion … when the 27-year-old NFL star had the idea to commission a diamond moose pendant.
Dak and Tad's other brother, Jace Prescott, was nicknamed "Moose" before he tragically died by suicide last April — so the QB felt it would be special for Tad.
Knowing the importance of such a gift for the Prescotts … Mazza says he got to work on crafting a masterpiece ASAP — and was able to deliver an unbelievable pendant in less than 2 weeks.
Mazza tells us the bling features 65 grams of 14k white gold and 9.5 carats of VVS E through D diamonds that were all hand-set on the antlers in a flower setting.
Mazza says the whole thing was also hand-painted in a jewelry enamel … and features the words "In Memory of Jace 'Moose' Prescott" on the back.
And, when the Prescotts received the gift … Mazza tells us Tad was so moved by the creation — he broke down in tears.
"Dak sent me a personal video thanking me," Mazza said. "He said, 'You made somebody's birthday.'"